About IT Staffing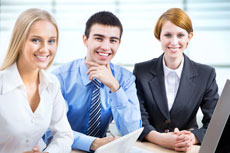 Gejits Infotech have great pleasure in introducing ourselves as one of the leading Strategic IT staffing company in Florida and Texas.

We help leading enterprises of the IT Sectors to leverage knowledge equity, increase employee productivity, compete smarter by providing recruitment, people development and business support services.
Our staffing process is based on our clients specific requirements based on the basic need of each project as well that of the client. This includes:
Searching for candidates
Searching the right candidates to fit the recruiters need by searching our database,
Through advertisements in different media,
Through word of mouth with our existing clients.
Shortlisting candidates
Zeroing in on the right candidates to be interviewed from the search results
Telephonic interviews with candidates from different countries based on the clients requirement
Shortlisting candidates from the resumes received from the media advertisements
Hiring process
Orientation and travel arrangements
Hiring on Contract basis
Temporary Hiring